'Qualcuno salvi il Natale', 'Qualcuno salvi il Natale 2', 'Un safari per Natale', 'Gli eroi del Natale', 'Un cavaliere per Natale', 'Un principe per Natale', 'Il calendario di Natale', 'Un'eredità per Natale', 'Non sono pronta per Natale', 'Il peggior Natale della mia vita', 'Miracolo a Natale', 'Natale in città' (con Dolly Parton, regina del country e ispiratrice della nota pecora), 'Klaus - I segreti del Natale', 'Ogni maledetto Natale', 'Matrimonio sulla neve', 'Let it snow – Innamorarsi sotto la neve', 'Nei panni di una principessa' (malgrado l'assenza di connotazione stagionale, anch'esso ambientato a Natale). Da qui alla Befana, i film di Natale di Netflix si potrebbero anche vedere tutti. Basta non dormire. Ma gli appassionati della cinematografia natalizia, nuova o di repertorio, sappiano che Hallmark Channel, di giovedì e venerdì, trasmette film di Natale tutto l'anno.
Incrociando le dita quando su Netflix si sceglie qualcosa che non sia una serie o un documentario, optando per film non natalizi contrassegnati dalla 'N' in alto a sinistra, dunque prodotti dal colosso, quest'anno ci si può sentire australiani, popolo che il Natale lo trascorre facendo il barbecue in spiaggia. 'L'incredibile storia dell'Isola delle Rose', film italiano ambientato nelle estive acque dell'Adriatico di tanto tempo fa, è un po' la commedia del momento, dove 'incredibile' non è un aggettivo qualsiasi come 'The Amazing Spiderman', ma la definizione di qualcosa che sembra fantapolitica, ma è storia d'Italia.
---

'È stata colpa della religione, al tempo comandava la Democrazia Cristiana' (Giorgio Rosa, settembre 2010)

---
Storia di un sogno utopista, o anche 'la prima guerra italiana dal 1945', perché la vicenda, nella sua fase conclusiva, include un intervento militare con tutti i sacri crismi, il film di Sydney Sibilia ('Smetto quando voglio') narra l'avventura indipendentista dell'ingegnere bolognese Giorgio Rosa e della sua, appunto, Isola delle Rose (o Repubblica Esperantista dell'Isola delle Rose), piattaforma artificiale di quattrocento metri quadrati conficcata nel Mare Adriatico a poco più di dodici chilometri al largo di Rimini, in acque internazionali, cinquecento metri oltre quelle italiane. Il primo maggio del 1968, in piena rivoluzione studentesca, in piena guerra fredda, la palafitta dell'ingegnere, retta da tubi di metallo, costruita dopo una lunga spola dalla terraferma, viene dichiarata Stato indipendente. Lo ha deciso Rosa in persona, che già ipotizza una moneta, una linea filatelica (in parte realizzata), una lingua ufficiale (l'esperanto, da cui 'Insulo de la Rozoj'), passaporti e ogni altra autonomia, compresa quella fiscale. Una specie di Repubblica di San Marino acquatica. "In origine – dichiarerà il vero Giorgio Rosa proprio a San Marino News nel 2010, sette anni prima di morire (92enne) – non era previsto di fare uno Stato indipendente. Fu un esperto di diritto internazionale a farmici pensare seriamente".
Ne 'L'incredibile storia dell'Isola delle Rose', l'ingegner Rosa ha l'accento credibilmente romagnolo del romano Elio Germano, affiancato da un Leonardo Lidi in versione comica, nei panni del socio in affari Maurizio Orlandini, sfruttatore di manodopera calabrese. Con la piattaforma ricostruita nelle acque maltesi, il film ripropone lo scalpore provocato da quel tanto temuto avamposto comunista (il passato di Rosa nella Repubblica di Salò poco si sposa con le teorie complottiste) che portò la politica dell'epoca a fantasticare sulla presenza in loco di sottomarini sovietici, bische, contrabbando e altre minacce, risolte con un drastico colpo di spugna. Su quanto accadde all'Isola delle Rose (il finale si legge ovunque, noi lo risparmiamo) l'ingegnere si esprimeva così, 42 anni dopo: "Furono questioni religiose. Al tempo comandava la Democrazia Cristiana. Io ero solo a favore della libertà". Democrazia Cristiana incarnata nel film da un irresistibile Fabrizio Bentivoglio nei panni dell'allora ministro dell'Interno Franco Restivo, con Luca Zingaretti in quelli del presidente della Repubblica Giovanni Leone, a far da spalla.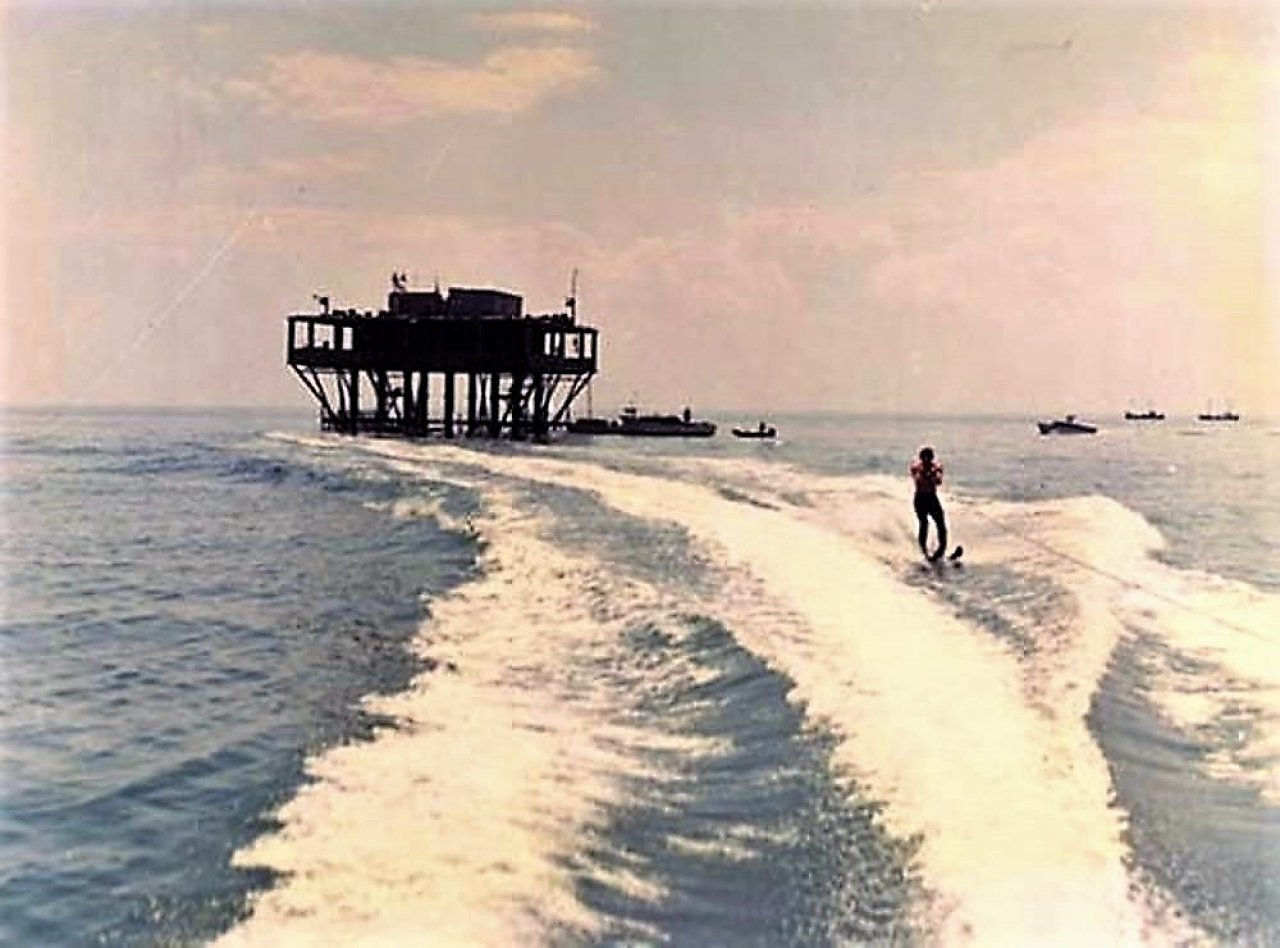 L'Isola delle Rose subito dopo l'inaugurazione (Wikipedia)
Dublino-Londra-Morcote
La storia dell'Isola delle Rose ha un'evidente affinità con quella di Radio Caroline, emittente radiofonica pirata britannica nata nel 1964 per volere di Ronan O'Rahilly, uomo d'affari irlandese spentosi nell'aprile di quest'anno a pochi giorni dai suoi ottant'anni. Spirito irrequieto, grande esperto di musica, tentando di segnalare alla Bbc artisti di chiaro valore, all'inizio degli anni Sessanta O'Rahilly capisce che agli artisti non basta avere un buon pezzo per passare alla radio nazionale (le cose non sono molto cambiate da allora – parte prima).
Preso atto che i programmi dell'emittente di Sua Maestà, e così anche quelli di altre radio nazionali come Radio Lussemburgo, sono a tutti gli effetti 'payola shows' – dall'Enciclopedia digitale: "Pratica illegale di pagamento nella radio commerciale per la quale la canzone è presentata come parte della normale programmazione quotidiana, senza annunciare che il passaggio avviene dietro pagamento" (le cose non sono troppo cambiate da allora – parte seconda) – il businessman decide di fondare una radio propria, affinché il pubblico possa ascoltare – finalmente, o per intero – The Beatles, The Kinks, The Who, The Stones. Dai passaggi su Radio Caroline, ad artisti e relative case discografiche non entrerà in tasca un solo penny, ma si tratta di un lancio pubblicitario gratuito senza precedenti e dell'apertura a un bacino di pubblico non addomesticato.
---

'Radio Caroline è stata fondamentale nei primi giorni di vita dei Dire Straits, dandoci supporto nel periodo in cui ne avevamo veramente bisogno, e per quello gli saremo sempre grati' (David Knopfler, ex chitarrista dei Dire Straits)

---
Ispirati dalla texana Radio Atlanta, che già diffonde musica da una nave nelle acque dell'Essex (Sudest dell'Inghilterra), ispirati da Radio Veronica, idem dalle acque olandesi, Radio Caroline inizia a trasmettere nel 1964 a bordo della nave cargo Mv Mi Amigo (ma coinvolgerà in seguito più natanti) aggirando il monopolio della Bbc grazie a una falla nella normativa britannica in campo di emissioni radiofoniche: trovandosi in acque internazionali, nulla deve la neonata emittente alla Regina per trasmettere musica.
La storia di Radio Caroline finirà dentro 'I love Radio Rock', film che riporta abbastanza fedelmente i giorni in cui la Swinging London della musica cantava in mare aperto. Da lì, dalle acque del Mare del Nord, trasmetteva negli anni Ottanta anche Grant Benson, storico dj di Radio Caroline prima e di 105 e Rtl 102.5 poi, colui che s'è inventato Radio Morcote International e che dallo scorso settembre fa il pirata a Radio3i.
---

'In Gran Bretagna, Radio Caroline viene pronunciata allo stesso modo in cui si pronunciano The Beatles, Mary Quant, Carnaby Street, Swinging London, è una parte integrante del tessuto britannico e non credo di esagerare se dico che grand parte delle radio musicali a base di rock e di pop devono molto a Ronan O'Rahilly' (Grant Benson, laRegione, aprile 2020)

---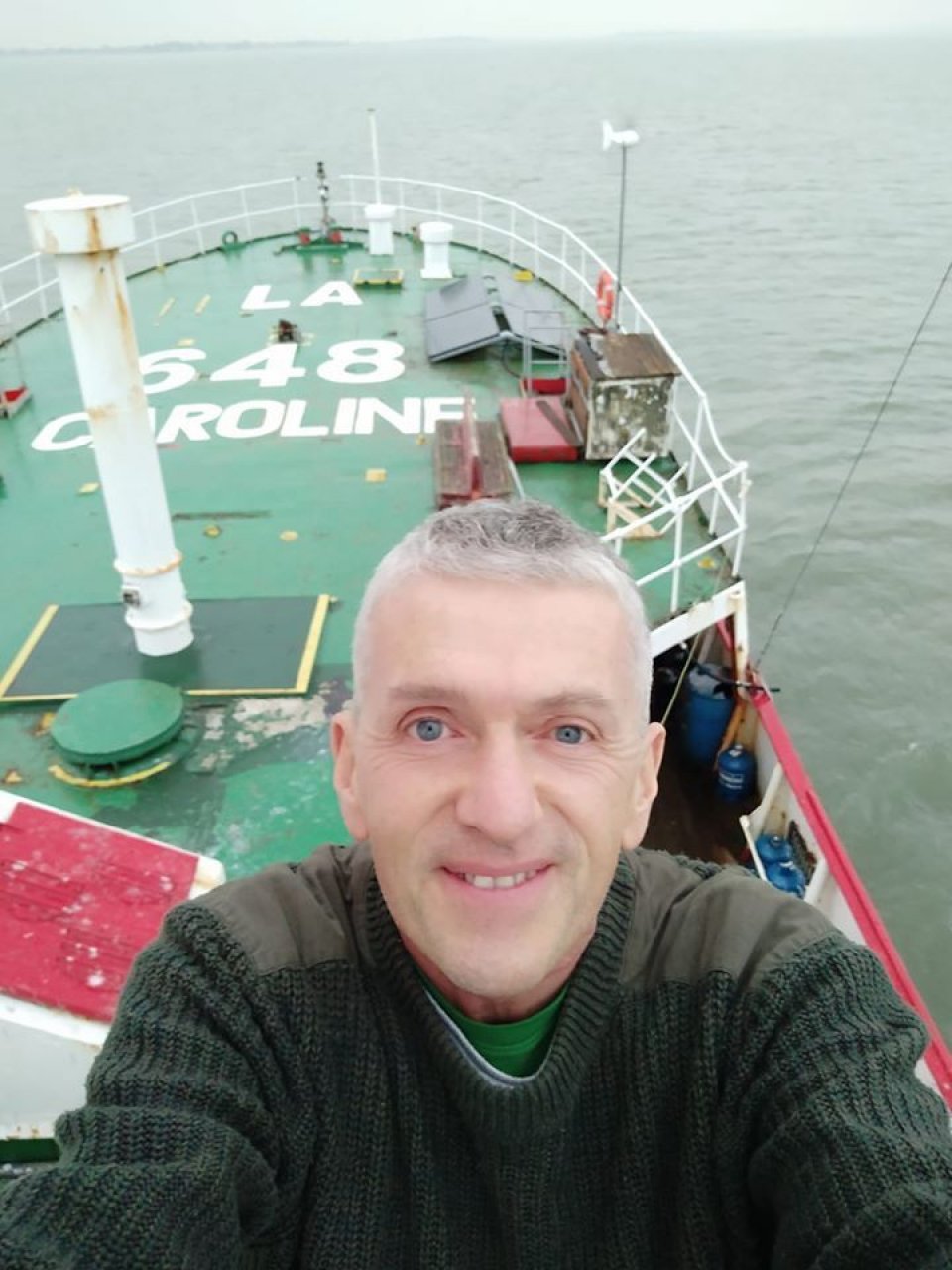 Grant Benson a bordo di Radio Caroline
Sua Altezza e il Barone Ed Sheeran
Restando nelle acque dell'Essex. "L'amico di un amico possiede una piattaforma petrolifera che è stata legalmente trasformata in un paese. L'ha chiamata Sealand, per cui lui è Re di Sealand, il che significa che può assegnare titoli alle persone. Io sono un barone. Fantastico". Chi parla (parlava, era il dicembre del 2012) è il Barone di Sealand Ed Sheeran, pluriawardata popstar britannica insignita del titolo nobiliare da tale Michael Bates su segnalazione di un veterano della Seconda guerra mondiale, evidentemente fan del cantante pel di carota.
Sua altezza reale il Principe Michael (Bates) è, per la cronaca, il discendente diretto (in quanto figlio) di Paddy Roy Bates (1921-2012), un maggiore dell'esercito britannico che combatté a Monte Cassino, divenuto poi pescatore, reinventatosi conduttore radiofonico, più tardi autodesignatosi Principe di Sealand (Principe Roy lui, Principessa Joan la moglie); uno che, al contrario dell'ingegner Rosa, è riuscito a confutare l'idea che "No man is an island" (Nessun uomo è un'isola), frase coniata dal poeta metafisico John Donne per intendere che l'essere umano è solo la parte di un tutto. Al contrario di quel che scrive il connazionale, i due Bates sono identificati in quella che, anche in questo caso, non è un'isola ma un manufatto eretto in mezzo all'acqua già noto come Rough Towers, fortino navale a tredici chilometri dalla costa (parte del complesso di più fortini denominato Maunsell Sea Fort) messo a difesa del porto di Harwich, sempre nell'Essex.
Nel settembre del 1967, le Rough Towers diventano ufficialmente (per la famiglia Bates) Principato di Sealand, micronazione dalle caratteristiche decisamente naïf, ma che ancora esiste. Che Sealand non sia mai stato riconosciuto come Paese sovrano da alcuno Stato al mondo, poco è importato al suo fondatore e poco importa all'attuale Principe, che a Genova, nel giugno del 2019, raccontò alla Stampa di quando nel 1968 sparò contro emissari del governo britannico venuti a chiedere alla sua famiglia di abbandonare la piattaforma, della pletora di hacker interessati a piazzare i propri server a Sealand (Napster, The Pirate Bay, Wikileaks), del futuro della dinastia (figli e nipoti sono già candidati a regnare) e, tornando indietro nel tempo, di quando il Principato scese in guerra contro Radio Caroline.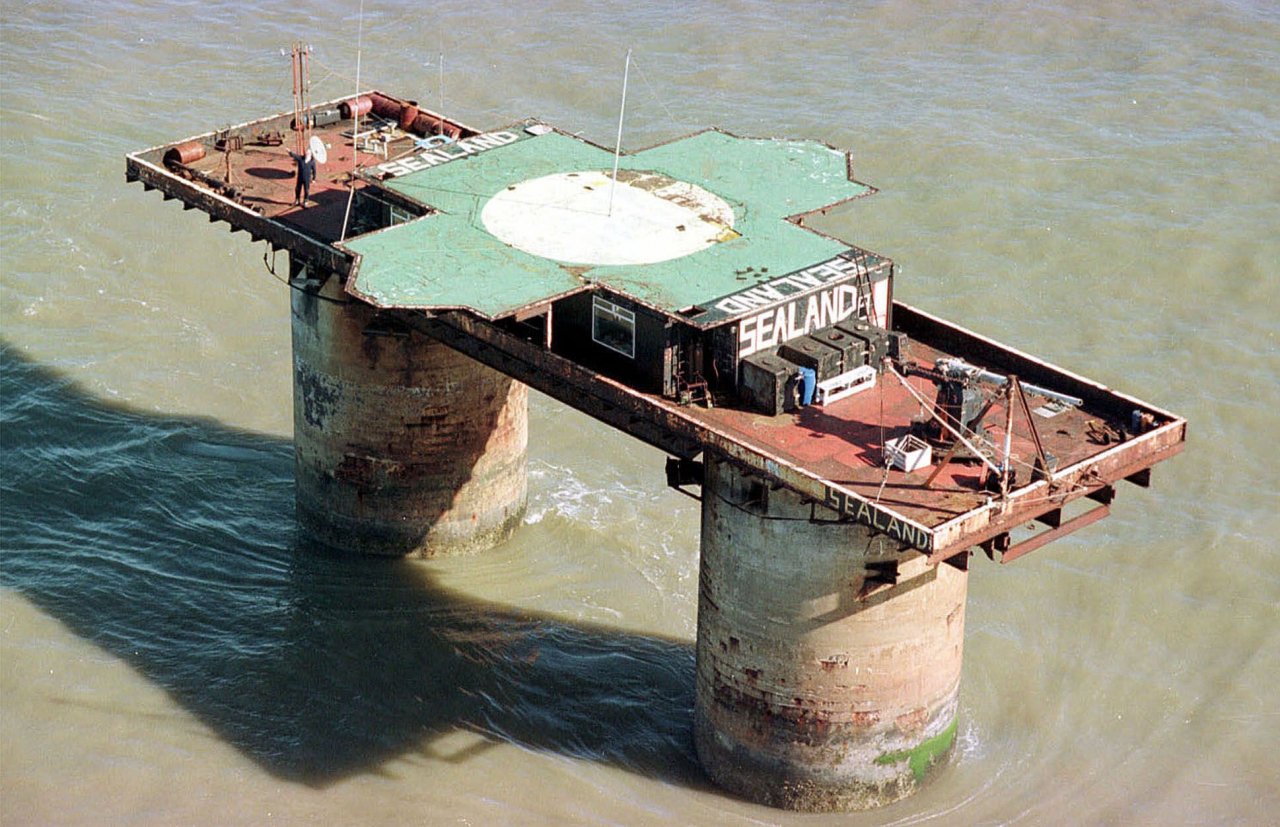 Benvenuti nel Principato di Sealand (Wikipedia)
La Guerra delle radio
La storia del Principato di Sealand, i cui passaporti 'di fantasia' si muovono sullo sfondo dell'omicidio Versace, è innanzitutto una storia di radio pirata. Occupate nel febbraio del 1965 da Jack Moore e dalla figlia Jane per conto dell'illegale Wonderful Radio London, le Rough Towers vengono prese da Bates sr. nel Natale del 1966 per ricostituirvi la sua Radio Essex, prima radio pirata H24 nata nel 1965 su di un'altra piattaforma del Maunsell Sea Fort, ridenominata Britain's Better Music Station dopo le accuse d'illegalità. Paddy Bates, malgrado disponga dell'attrezzatura necessaria, non avvierà mai la nuova Radio Essex, preoccupandosi soltanto – con l'entrata in vigore del Marin Broadcasting Offences Act, che dichiara fuorilegge le trasmissioni provenienti da siffatte strutture – di sancire l'indipendenza a proprio favore delle Rough Towers.
La storia vuole anche che Ronan O'Rahilly di Radio Caroline ambisca alla medesima piattaforma: alcune fonti lo danno come partecipante all'assalto del '66 (il Principe Michael parla di "due persone" generiche poi allontanate); altre fonti si limitano a riferire dei tentativi plurimi di Radio Caroline d'impossessarsi delle Towers, con gli emissari allontanati a colpi di bombe molotov e proiettili; da cui l'intervento della Marina militare britannica e la reazione del Principe Michael. Condotta a colpi non solo di share, oggi la chiamano 'La Guerra delle radio'.
A scanso di equivoci
Chiudiamo con il motto dei Bates, con la filosofia del Principato di Sealand, dal latino 'E Mare Libertas', ovvero 'Al mare, Libertà'. Che un po' era anche la filosofia di Giorgio Rosa. Forse per questo, a scanso di equivoci, lo spirito indipendentista dell'ingegnere bolognese deluso dalla troppa burocrazia italica avrebbe spinto di lì a poco la politica a spostare più in là del doppio della distanza originaria il limite delle acque internazionali. Hai visto mai...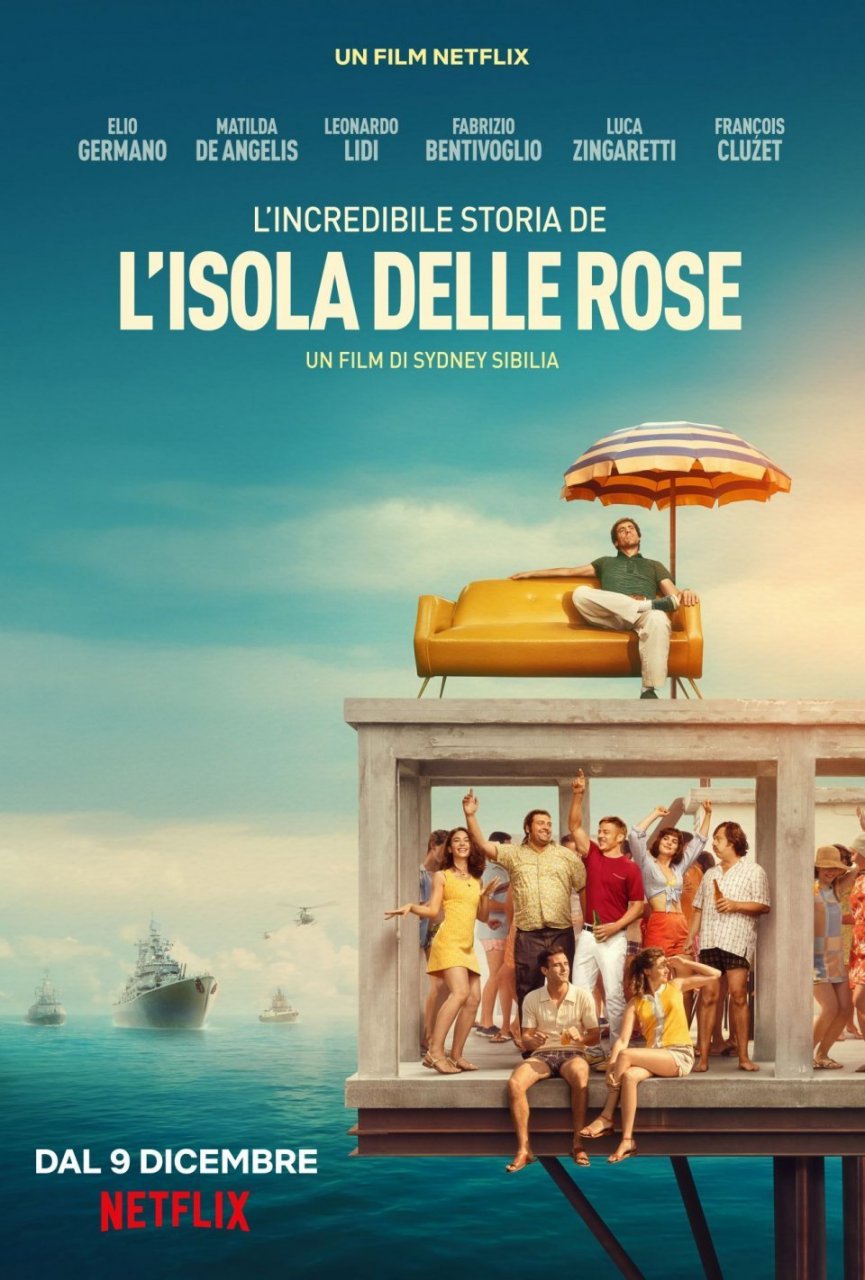 La locandina del film