Sono, o sono stati – visto che sul palco ne sono rimasti pochi – "il punto più basso mai toccato dal rock'n'roll" secondo Ritchie Blackmore, chitarrista dei Deep Purple. Ma anche "una banda di uomini di dubbia reputazione che possono seriamente ambire a essere la più grande band rock'n'roll di tutti i tempi" (Jesse Fink, colui che su di essi ha scritto più libri di chiunque altro). O ancora "un gruppo di meravigliosi cazzari australiani che hanno fatto della loro poetica musicale un inno ai piaceri corporali della vita", detto dal fan Antonio Ornano, comico genovese che durante il lockdown, di questi "epicurei del rock" ha tessuto le lodi su facebook. Il quintetto che per l'hard rock ha lo stesso significato di Johann Sebastian Bach per la musica pop trova forse la sua definizione più corretta nelle parole di Phil Carson, l'uomo che nel 1975 li portò all'Atlantic Records facendone un fenomeno non più soltanto australiano: "Gli AC/DC non fanno rock'n'roll. Gli AC/DC sono rock'n'roll".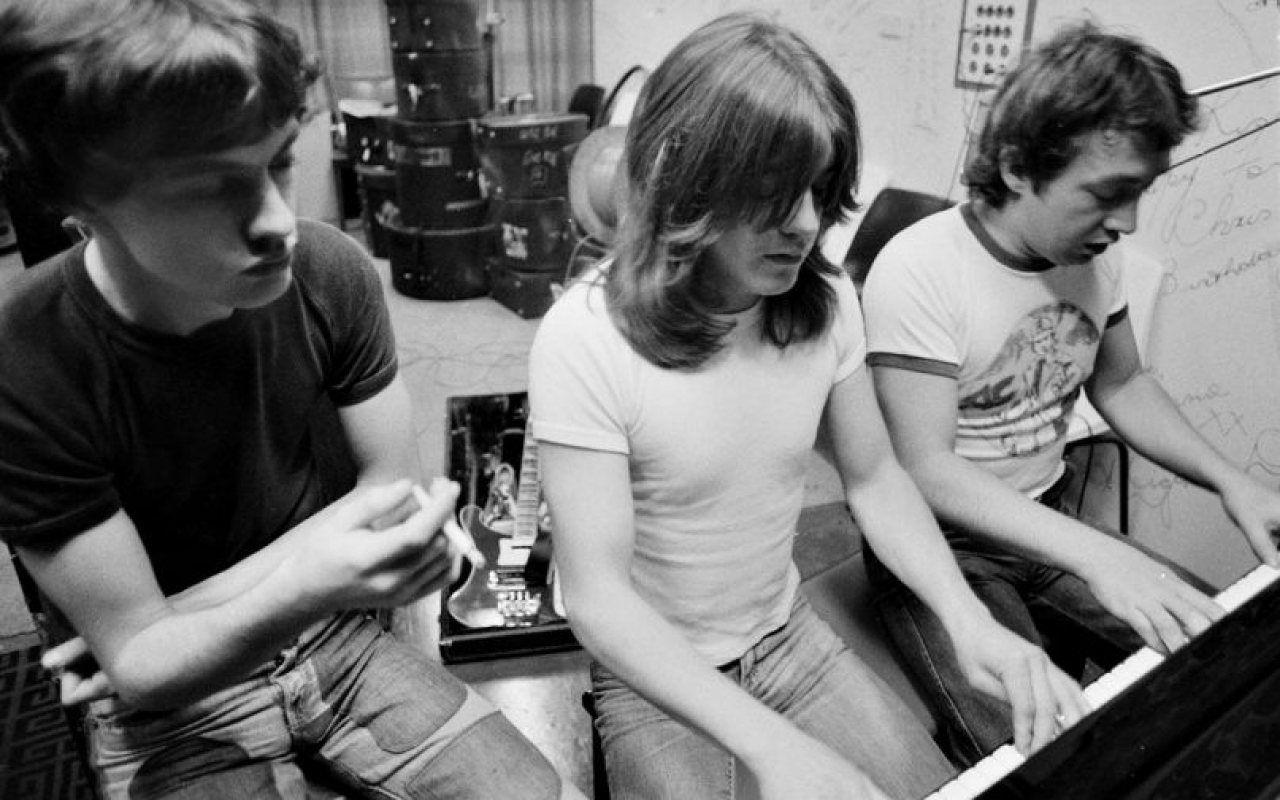 Da sinistra: Angus, Malcolm e George (Facebook)
In principio era George
Citazione per citazione: "Tutti abbiamo una storia che ci lega a questa band", scrive Fink in 'La dinastia Young – Storie degli Ac/Dc' (Giunti). Storia che nel suo caso è 'Gimme a bullett' da 'Powerage' (1978), ascoltata nel pieno di una separazione non consensuale, ma che nel caso di altri può essere anche l'album 'Highway to Hell' (1979) ascoltato in modalità 'repeat' viaggiando dal sud Italia verso Milano, in una notte in cui l'autostrada finì non all'inferno ma a Genova, causa folgorazione in età adulta che rende invisibili i caselli.
Chi, invece, avesse scoperto gli AC/DC con 'Back In Black', forse ricorderà dove si trovava il 25 luglio di quarant'anni fa, data di pubblicazione del disco con l'iconica copertina nera, un punto d'arrivo e insieme di partenza per la rock band australiana il cui nucleo indissolubile, oggi quasi interamente dissolto, era rappresentato dai fratelli George, Malcolm e Angus Young, figli d'immigrati scozzesi sbarcati in Australia alla fine degli anni Cinquanta dei quali resta oggi il solo Angus (il virtuoso col completino da scolaretto e la chitarra Gibson 'diavoletto'). Il fratello maggiore George – noto alla fine degli anni Sessanta con gli australiani Easybeats e produttore dei fratellini sino a 'Powerage' compreso, insieme all'altro ex-Easybeats Harry Vanda – è morto nel 2017; un mese dopo è morto Malcolm, che insieme alla chitarra del fratello Angus ha prodotto alcuni dei riff più significativi della storia del rock, didattici almeno quanto quelli di Keith Richards (forse si dovrebbe dire "quelli di Ray Cooder". Ma questa è un'altra storia).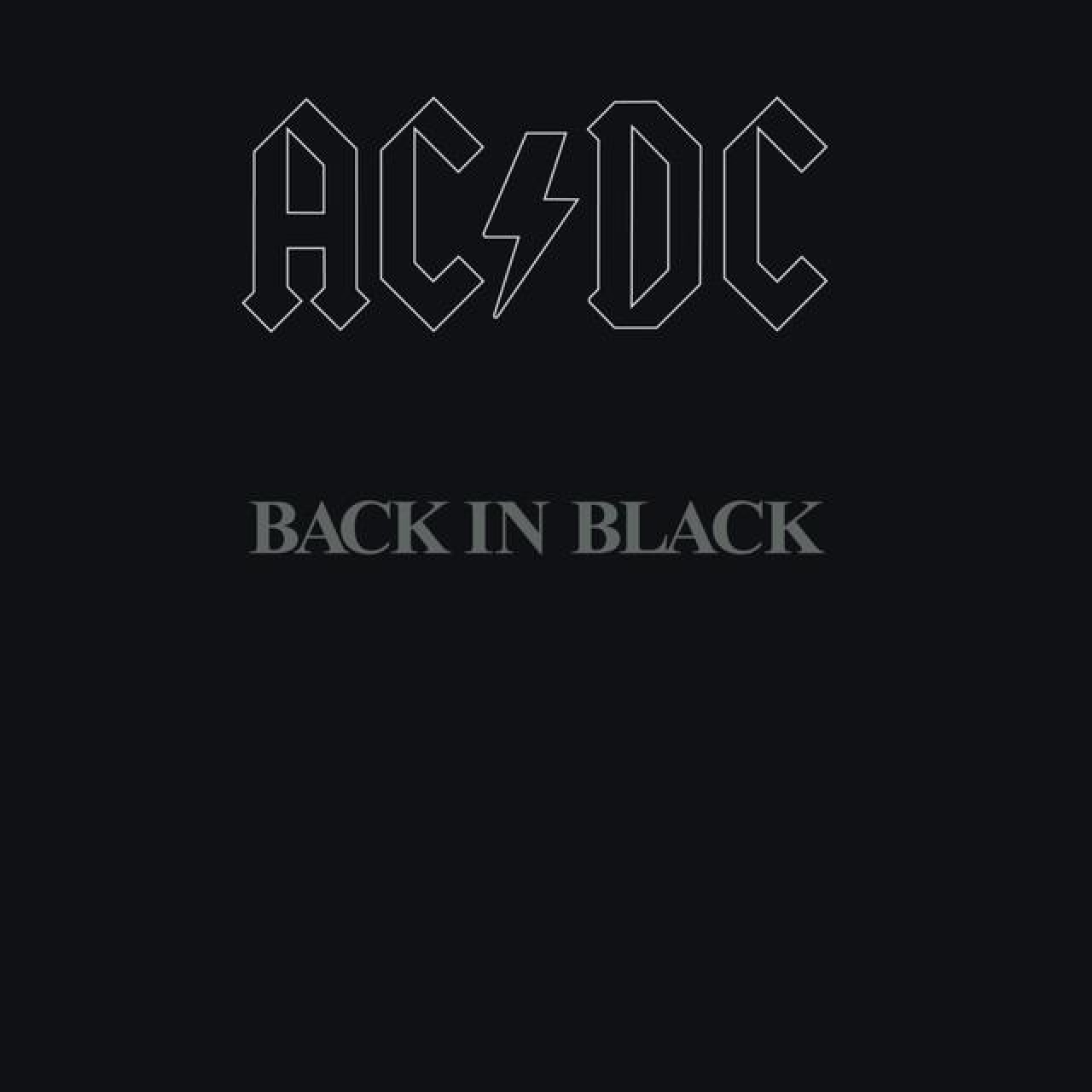 Nel 1980, per gli AC/DC – primo gruppo dai tempi dei Beatles ad avere quattro album nella top 100 col ritorno in classifica dei precedenti 'Highway to Hell, 'If You Want Blood You've Got It' e 'Let There Be Rock' – 'Back in Black' è un punto d'arrivo perché nessun album concepito dalla famiglia Young venderà in futuro più di cinquanta milioni di copie . Vetta di una lenta e faticosa popolarità iniziata nel 1975 con 'It's a Long Way to the Top (If You Wanna Rock'n'Roll)' – inno alla gavetta con assolo di cornamusa, riassuntivo di un'epoca in cui, senza internet e nemmeno Mtv, l'unico modo per avere successo era caricare gli strumenti su di un furgone e andare a suonare nelle bettole – 'Back in Black' è anche un punto di partenza, o ripartenza. Perché la notte del 18 febbraio 1980 gli AC/DC non esistevano più.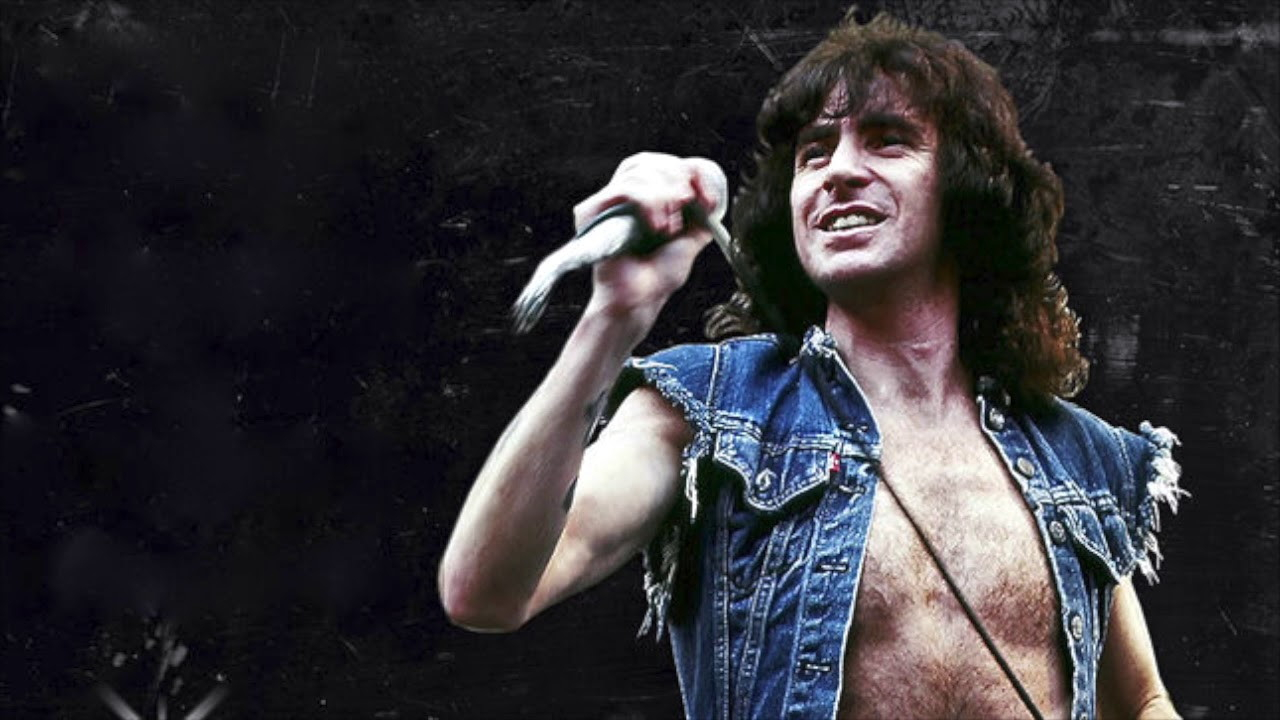 Bon Scott (1946-1980)
L'ultima autostrada
"Era tanto intelligente come autore quanto l'incubo di ogni padre di una graziosa adolescente". Così Jesse Fink descrive Bon Scott, frontman degli AC/DC dal 1974 fino a 'Highway to Hell'. Anch'egli figlio d'immigrati scozzesi, cantante, batterista e suonatore di cornamusa (vedi sopra), Scott muore nel momento esatto in cui la band sta esplodendo, per la stessa autoinflitta fatalità che accomuna il destino di tutti quelli che, giunti invece sino a noi, in gioventù hanno avuto un piede nella fossa per avere assunto per via orale o endovenosa ogni sostanza disponibile nel settore dello sballo. Abbandonato perché sbronzo, da un amico sbronzo, sul sedile posteriore di una Renault 5 nel sud est di Londra per riprendersi dall'hangover, Ronald Belford 'Bon' Scott se ne va a causa di una "accidentale intossicazione da alcol", lasciando negli AC/DC e nella storia del rock il medesimo vuoto che avrebbe lasciato Freddie Mercury se l'Aids se lo fosse preso dopo 'A Night at the Opera'.
Nell'idea generale che gli AC/DC siano finiti, che la band australiana non possa prescindere dalla voce, dalla presenza scenica e dalle liriche di Scott, quelle che il suo autore chiamava "poesia da cesso", il clan Young si adopera per trovare il sostituto. Dal toto-nomi prevalentemente australiano esce il britannico Brian Johnson, cantante dei Georgie, che col predecessore nulla c'entra fisicamente ma la cui voce pare l'unica possibile per non farlo rimpiangere. Contano anche l'essere del nord est dell'Inghilterra, la voglia di birra, una naturale simpatia e il non essersi presentato alle selezioni con 'Smoke on the Water' dei Deep Purple, che annoia gli Young, bensì con 'Nutbush City Limits' di Tina Turner.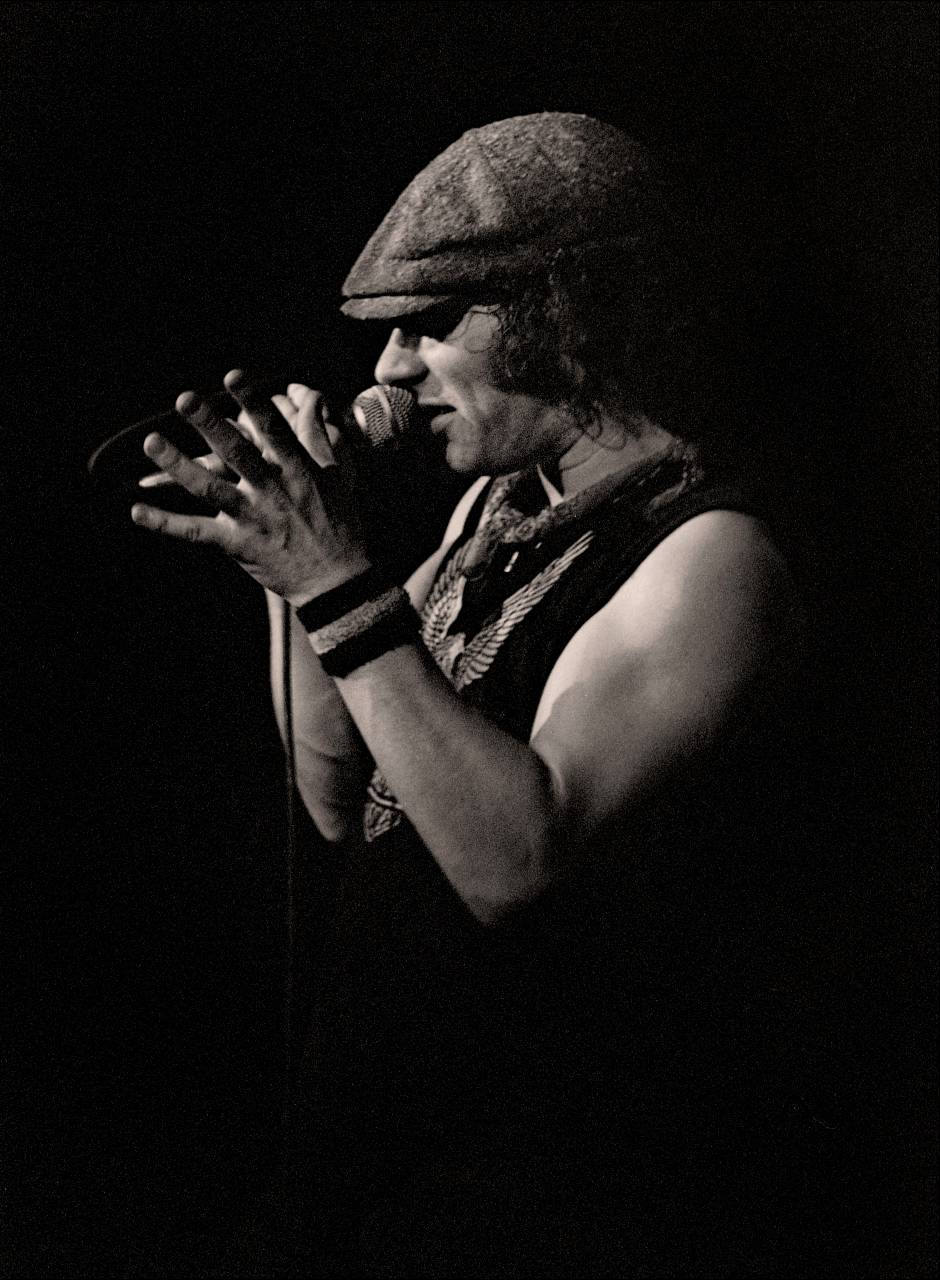 Brian Johnson
Scelto al terzo provino, a Johnson toccheranno le liriche di 'Back in Black', l'album – per bocca di Malcolm – "di cui andiamo più fieri, perché credevamo che fosse la fine del gruppo, per essere sinceri". L'album con la copertina nera per elaborare il lutto, osteggiata dalla casa discografica che, a fatica, impone un profilo grigio al logo del gruppo affinché si capisca almeno chi suona. "Gli abbiamo dedicato tutto il disco invece di limitarci a una semplice frasetta sul retro di copertina", annuncia Angus. Tornando alle liriche: in 'Bon: The Last Highway' (sempre di Jessie Fink, chi altri?) si affronta il tema del misterioso quadernetto di Bon Scott con i presunti testi di 'Back in black' pronti prima della morte, che tanto ricorda l'agenda rossa del giudice Borsellino. Davvero gli AC/DC riciclarono i testi del cantante fresco di sepoltura?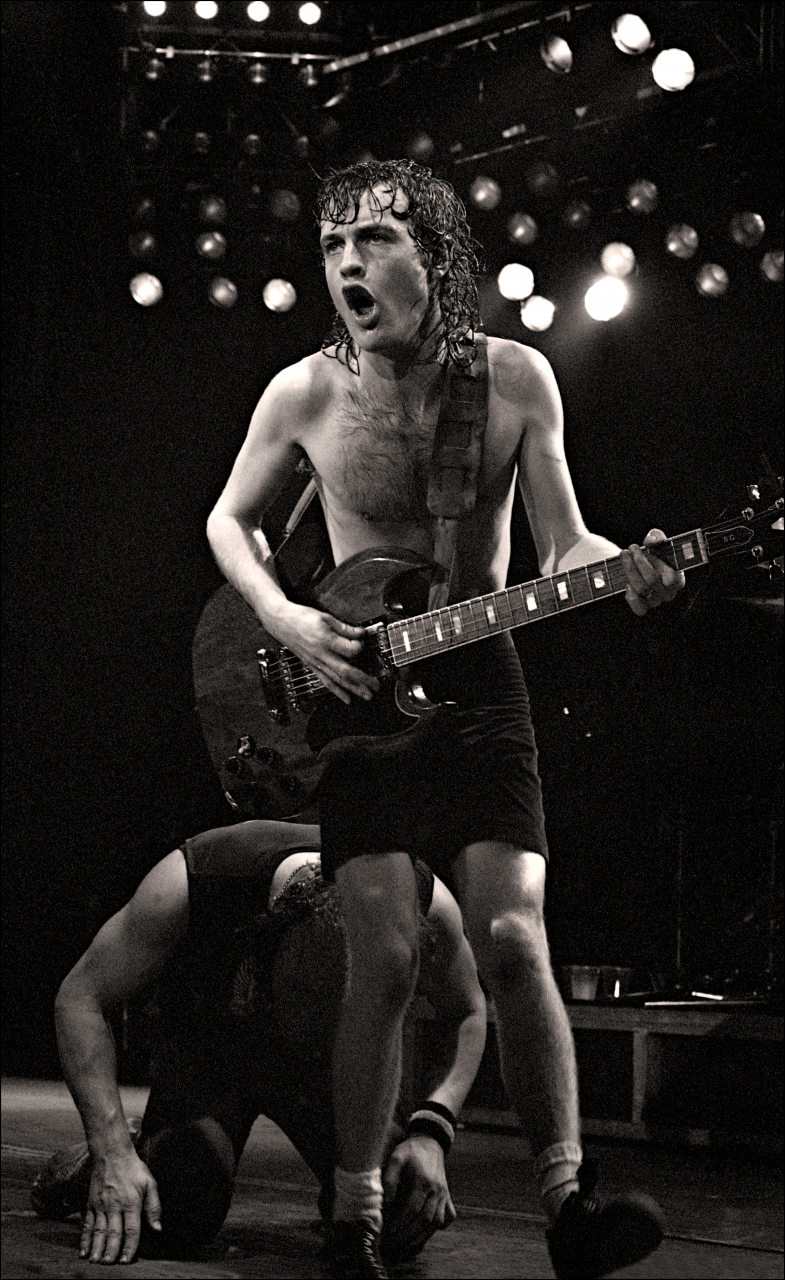 Angus Young: 'Gli abbiamo dedicato tutto il disco invece di limitarci a una semplice frasetta sul retro di copertina'
---

'Potenti senza essere rumorosi'

---
Senza più il fratello maggiore alla direzione artistica e una volta rifiutato Eddie Kramer (colui che registrò Woodstock, produsse Hendrix e fu ingegnere del suono per i Beatles), col pensiero ai Polar Studios degli Abba, occupati però dagli Abba, 'Back in Black' viene registrato alle Bahamas per ragioni anche fiscali, cui il clan Young è sempre stato molto attento. Il produttore è ancora John 'Mutt' Lange (già in 'Highway to Hell', poi in 'For Those About to Rock' e poi mai più, causa pignoleria poco gradita ai fratelli). Lange è un Re Mida e l'album cambierà il suono del rock, contendendo a 'The Nightfly' di Donald Fagen lo scettro di disco ufficiale dei soundcheck delle sale concerto e degli impianti audio all'aperto. Merito dei molti 'ambienti' catturati dall'ingegnere del suono Tony Platt (non siamo una rivista specializzata, ma la cosa ha a che fare con la sensazione di essere vicini a chi suona); merito della band, "potente senza essere rumorosa" (Platt) e che osteggia le sovraincisioni, così che dal vivo nessuno rimpianga mai il disco. Merito, anche, dell'essenzialità che è pure del bassista Cliff Williams e del batterista Phil Rudd, nelle cui parole – "Questo è il mio stile: non fare troppo ma farlo bene" – sta il segreto del suono primordiale, primitivo del gruppo. Merito, infine, dell'alchimia tra fratelli, e merito del solista: "Quando qualcuno mi chiede di ricreare il suono di chitarra di Angus – dichiara Platt in ''La dinastia Young' – rispondo che si può fare ma dobbiamo procurarci una cassa e una testata Marshall vintage, una Gibson SG e, naturalmente, Angus".
---

'Buongiorno, avremmo bisogno di una campana'

---
La genesi di 'Back in Black' narra sì del temporale improvviso che alle Bahamas chiamò a Brian Johnson l'incipit di 'Hell's Bells' ("I'm a rolling thunder, a pouring rain. I'm comin'on like a hurricane"), del testo di 'You Shook Me All Night Long', avverso a Malcolm ("Pensavo avesse troppe parole. Poi cambiai idea"), ma narra anche della campana all'inizio di 'Hell's Bells', che non è un suono campionato bensì quello di una campana per le chiese del peso di una tonnellata, commissionata ad apposita ditta del Leicestershire e sulla quale il tour manager Ian Jeffery riuscì, non senza difficoltà, a farvi incidere la scritta 'Hell's Bells' (una volta risolto il dubbio se sopra una campana fosse lecito incidere la parola 'Inferno'). La storia dell'oggetto occupa ampio spazio nel libro di Murray Engleheart e Arnaud Durieux intitolato 'AC/DC, Maximun Rock & Roll' (Arcana), che include anche le immani difficoltà per introdurlo sui palchi delle piccole strutture (se non aprendo un buco sul soffitto).
---

'Provate a immaginare soltanto per un attimo come sarebbe la vita senza AC/DC'

---
I biografi degli AC/DC non risparmiano la non estrema affabilità della band, le risse, il trattamento riservato agli ex-membri (alcuni spariti dai credits, altri dalle foto), il logo della band disegnato dal grafico Gerard Huerta e autorizzato per il solo 'Let There Be Rock', poi usato senza permesso e senza un grazie; e il manager licenziato per i problemi tecnici di un concerto, o i guai giudiziari di Phil Rudd, accusato nel 2014 di aver pianificato un omicidio, poi assolto per mancanza di prove. Ecco, a parte questo e una certa mai negata ripetitività, ma sempre eterni come Iron Man grazie al quale i più giovani li hanno scoperti, "quanto agli AC/DC – scrivevano Engleheart e Durieux nel marzo del 2009 – basta dire che il mondo si regge su un delicato equilibrio e rimuoverne dalla struttura un elemento portante come loro potrebbe avere rischiose conseguenze sul piano sociale, ambientale e di qualsiasi altro genere si voglia. Provate a immaginare soltanto per un attimo come sarebbe la vita senza AC/DC". Concetto divertente e a suo modo profetico: constatato che i due Young più anziani non ci sono più, che Brian Johnson si è ritirato a causa del reflusso gastrico, che il sostituto Axl Rose è sempre troppo avanti sul tempo e anche troppo alto per quella che è sempre stata una banda di piccoletti, confessiamo che una domanda sul "delicato equilibrio" sul quale si regge il mondo ce la siamo fatta. Ecco, magari non è esattamente l'autostrada per l'inferno, ma pare l'autogrill.