"Ciao Steve! Un grande sul palco e con la gente". Giovedì 7 ottobre 2010, quando laRegioneTicino apre con la notizia della sua morte, è Marco Zappa a salutare per primo Steve Lee, morto in un pomeriggio d'autunno nel Nevada travolto da un camion mentre stava realizzando il viaggio dei suoi sogni, il coast to coast degli Stati Uniti a bordo di una Harley-Davidson. "Le nostre strade non si sono incrociate spesso, ma abbastanza per ricordare la tua schietta cordialità, la tua grande voce e il tuo saper stare sul palco e con la gente".
Con la sintesi tipica del cantautore, Zappa riassumeva la doppia anima di chi per ritirare un premio poteva anche arrivare in limousine, ma restando – qualità non comune alle star, men che meno a quelle dell'hard rock – l'amico. O "lo Stefan" col quale Roberto Bizzozzero, nel 2010 sindaco di Porza, giocava da bambino. Le pagine di quel giorno ospitano anche le parole di Mauro 'Lupo' Lupazzi e Kiko Berta, con Lee nei Forsale, un capitolo di rock ticinese. "Non si comportava mai da primadonna. Nessun atteggiamento da star. Nello spettacolo coinvolgeva l'intera band. Sul palco, insomma, c'eravamo tutti (…) Era davvero un bravo ragazzo. Uno coi piedi ben saldi a terra", raccontava Lupazzi ad Andrea Manna spaziando tra la musica e la comune passione per le Corvette ("Andammo a Zurigo per un'esposizione; in auto non avevo lo stereo… Beh, ci pensò Steve. Cantò praticamente tutto il viaggio, i brani dei miei complessi preferiti").
---

'Ora penso che sei tu l'angelo del rock'

---
'Sì, sono un orafo: non si vede?'
Nato a Horgen (Zurigo) il 5 agosto del 1963 da padre britannico e madre svizzera, Steve Alois Lee a Porza ci era cresciuto; all'età di 12 anni aveva iniziato a studiare tastiere e batteria, svolgendo la formazione come orefice. Nel 1992, insieme a Leo Leoni, Marc Lynn e Hena Habegger, aveva fondato i Krak, divenuti poi Gotthard sotto la guida dell'ex-bassista e songwriter dei Krokus Chris von Rohr, in veste di produttore e co-compositore. È questa, assai in breve, la genesi della rock band più famosa mai prodotta dalla Svizzera e dalla formazione rimasta invariata per 19 anni se non per l'inserimento del secondo chitarrista Freddy Cherer. Sedici in tutto gli album incisi da Lee coi Gotthard, dall'eponimo esordio del 1992 registrato negli Stati Uniti a 'Need to believe' del 2009. In tutto questo tempo, Steve Lee 'star' era rimasto 'persona', pacifico e riconoscente, cortese e umano, quasi ancora orafo: "Devo abituarmi a tutto questo. Come orafo è tutto nuovo per me. Prima sei un orafo e poi ti ritrovi su un palco così", dice durante le prove di uno dei primi concerti importanti, nelle immagini d'archivio contenute nello splendido (splendido) documentario di Kevin Merz intitolato 'Steve Lee, la voce gentile del Rock' visto in 'Storie', Rsi. "Ma veramente sei un orafo?", gli chiede l'intervistatore. E Steve risponde: "Sì, sono orafo. Non si vede?".
Con un progetto solista in cantiere, Lee era arrivato al suo ultimo viaggio nelle vesti del sopravvissuto: da un tamponamento subito poco prima in Italia, sull'A1 in provincia di Firenze, il cantante, la figlia allora 15enne e la compagna Brigitte Voss (Miss Svizzera 1981, leggermente ferita), erano usciti praticamente, miracolosamente, illesi: "Ho sicuramente un angelo custode che mi segue", aveva scritto Lee sul sito della band. Nel giorno dell'addio, qualcuno gli risponderà: "Ora penso che sei tu l'angelo del rock".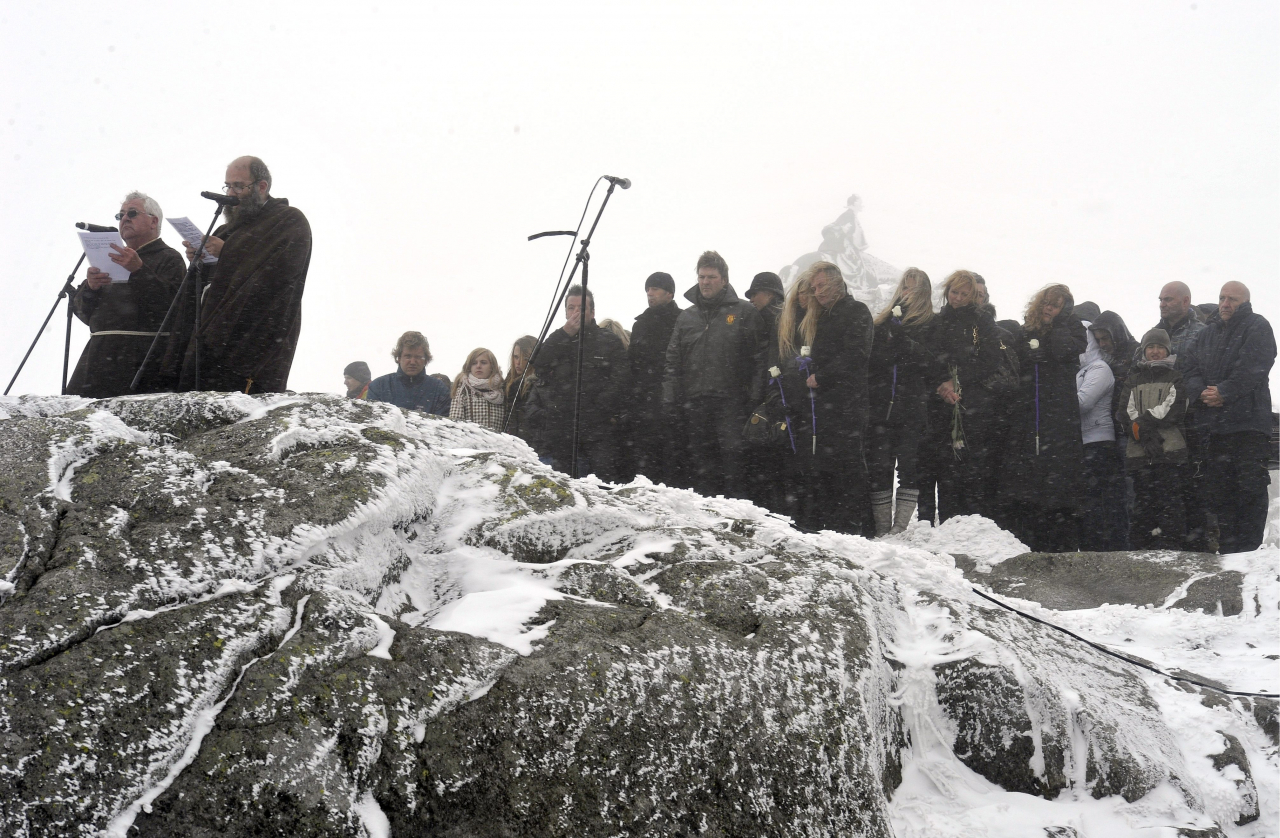 Passo del Gottardo, 17 ottobre 2010 (Keystone)
'Ceneri di stelle'
Il 12 ottobre 2010, titolando 'Ceneri di stelle', laRegione annuncia che Steve Lee sarà ricordato dai fan con una cerimonia d'addio sul Gottardo. E dove altrimenti, per uno che da bambino s'ammalava se andava in Svizzera interna a trovare i nonni e "appena usciva dalla galleria, guariva", ricorda il padre Carlo a Kevin Merz. "Nevischio, vento e gelo non hanno fermato il popolo dei Gotthard", scriveranno gli inviati Andrea Manna e Marino Molinaro nell'edizione di lunedì 18 ottobre, riferendo dell'addio in forma pubblica tenutosi sul Passo del Gottardo dalle 10 del mattino e popolato da almeno tremila persone giunte dalla Svizzera, dall'Italia, dalla Germania, dall'Austria e dall'Olanda, parte delle quali ad affollare il tendone bianco allestito con 12 gigantografie dell'artista, un libro delle condoglianze da firmare e una celebrazione religiosa in programma tre ore più tardi. Sul Gottardo dei Gotthard ci sono giovani, anziani, genitori con bambini, il popolo dei fan e quello delle Harley, pronte al rombo finale, per il saluto finale. Non prima che gli altoparlanti abbiano diffuso 'One Life, One Soul', il duetto con la grande Montserrrat Caballé, soprano spagnolo a fianco di Steve su disco e anche dal vivo. E tutti, in quel momento, sono una vita e un'anima sola.
---

'La mia fortuna, molto probabilmente, è che questo non è l'unico lavoro fatto riascoltando la voce di Steve registrata. Da una parte, in questo senso, non è stato così emotivamente distruttivo per me' (Leo Leoni)

---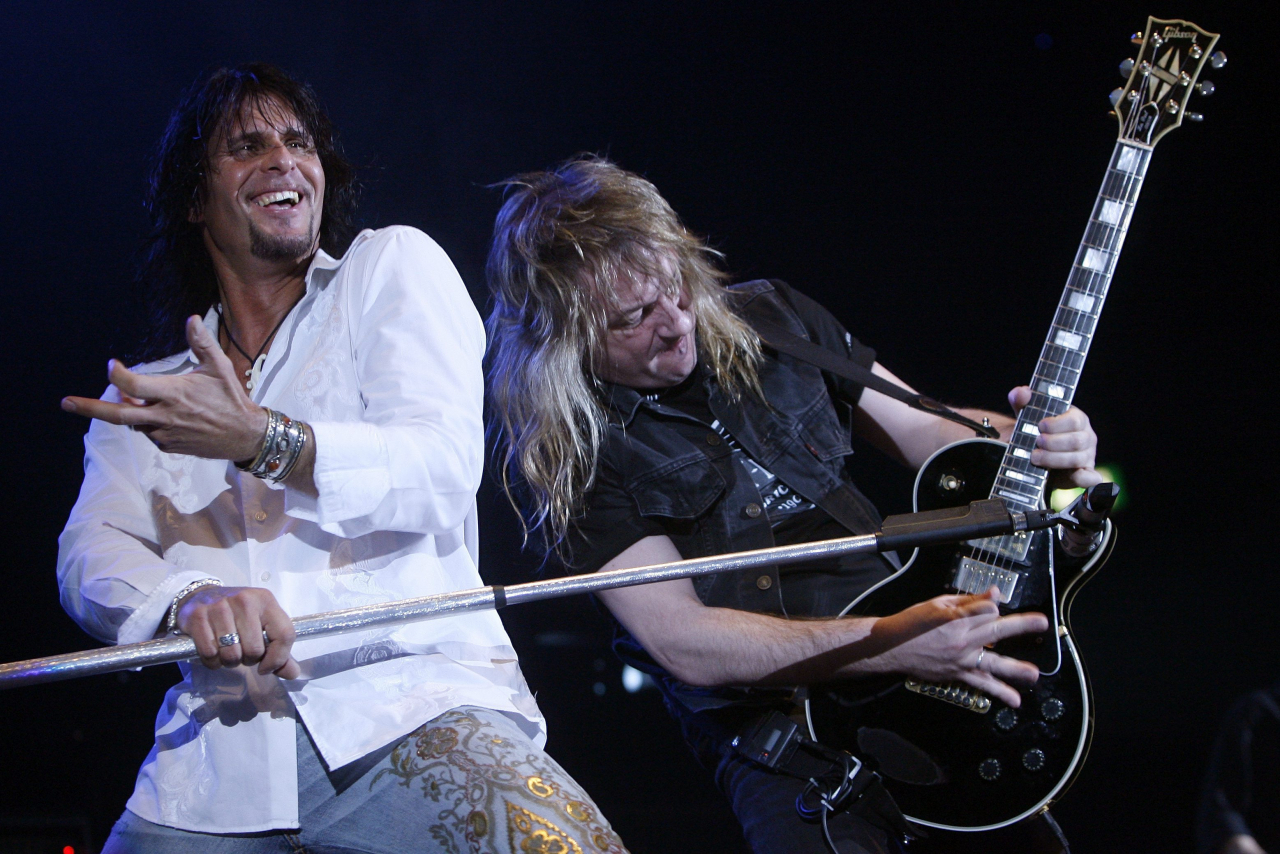 Hallenstadion, con Leo Leoni, 8 dicembre 2005 (Keystone)
'On guitar'
'È stato come averlo in studio'
Il 7 ottobre del 2010, dando la triste notizia, laRegione contattò Leo Leoni, che proprio non se la sentì di commentare. Deve riuscirgli non meno facile oggi, vedendo con quanta difficoltà compatta il magone alla fine di 'Storie' su La1, una volta chiusosi un racconto che tra rock e bonsai – altra passione di Steve oltre le Corvette – produce l'immagine fedele di un'anima buona. «Chi era Steve Lee? Ti rispondo che era innanzitutto un grande amico, e poi un grande artista, una gran persona con un gran talento. Sicuramente uno dei dieci migliori cantanti al mondo. E un gentleman del rock».
Nemmeno al telefono gli occhi lucidi di Leo Leoni sono difficili da scorgere. Come nel rock, è tutta una questione di suoni. Chiediamo al chitarrista di questo 'Steve Lee – The Eyes Of A Tiger: In Memory Of Our Unforgotten Friend' (Nuclear Blast), album che raccoglie una decina dei 'must' dei Gotthard ma pure cover come la canzone che dà il titolo al disco, hit immortale dei Survivor uscita nel 1982 per accompagnare 'Rocky III' (chiesta esplicitamente da Stallone, rimbalzato dai Queen per 'Antoher One Bites the Dust'). E poi 'Tarot Woman' dei Rainbow e 'Hush' di Billy Joe Royal, già sull'album di debutto dei Deep Purple (1968) e già su quello degli stessi Gotthard (1992). «È un tributo, come dice il titolo del disco, a un amico indimenticato. Eravamo partiti con l'idea di un concerto per ricordarlo, ma le restrizioni hanno fatto sì che l'idea sia stata abbandonata. Allora ci siamo concentrati su qualcosa che potesse restare nel tempo, e il disco è qualcosa che può essere ascoltato in qualsiasi momento. Un disco che porta entrambi i nomi, il nostro e quello di Steve. Insieme all'altro vocalist Nic, si può dire che sono i Gotthard al gran completo».
'Qualcosa di magico'
L'album è il frutto di un lavoro di recupero di tanto materiale d'archivio: «Materiale che sapevo esistesse ma non dove fosse e soprattutto in quale formato. Ho fatto le mie ricerche e sono venuto in possesso di registrazioni che hanno qualcosa di magico. Le facemmo io e lui ai tempi; abbiamo cancellato gran parte della mia vecchia chitarra acustica, ricostruendo il tutto intorno alla sua grande voce». Voce che ogni volta porta con sé il suo bel carico di emozioni: «La mia fortuna, molto probabilmente, è che questo non è l'unico lavoro fatto riascoltando la voce di Steve registrata. Da una parte, in questo senso, non è stato così emotivamente distruttivo per me. Dall'altra parte è stato molto bello perché questo tipo di lavoro si fa spesso in tarda serata o a notte inoltrata, quindi è stato un po' come passare le notti in sua compagnia. Ci sono stati dei momenti in cui ci è sembrato di avere Steve in studio».
Leo è felice del disco, che secondo lui rappresenta il ricordo migliore che si possa dare del cantante in questo momento: «Riscalda i cuori di tutti, del rockettaro e del non rockettaro». Recuperare 'Eye of the Tiger', in particolare, permette di condividere l'idea di un disco di cover nel quale i Gotthard avrebbero tributato le band e gli artisti che li avevano ispirati in carriera. Oggi, quel brano apre invece una sorta di 'Best of' degli svizzeri, con dentro anche cose meno suonate dal vivo.
'Non c'è problema'
L'incontro tra Leo Leoni e Steve Lee è storia, ma piace riascoltarlo perché porta a uno dei momenti più belli della carriera del cantante scomparso, che sta anche nel documentario di Merk: «Ci vedemmo per la prima volta nel locale di prova dei Cromo, la band in cui lui suonava al tempo, in via Besso a Lugano. Dopo aver provato il loro repertorio, i Cromo di solito facevano una jam con i pezzi storici del rock. Quella volta Steve cantò 'Child in Time' dei Deep Purple seduto alla batteria, e la cantò in modo spaziale».
Non dev'essere stata meno spaziale di come fu cantata da Steve Lee di fianco a Jon Lord alla Tonhalle di Zurigo il 10 gennaio del 2009, quando il grande tastierista volle con sé il frontman dei Gotthard quale special guest del suo 'Concerto For Group and Orchestra': «Sì, rimane a oggi un'esecuzione fantastica, fu un punto molto importante della carriera di Steve. Jon lo cercò personalmente e per Steve fu un'emozione grandissima». La storia racconta che «quando Jon – morto poco meno di due anni dopo Lee, ndr – gli disse "Guarda che dovrai cantare molto, molto in alto", Steve gli rispose "Non c'è problema!"», affermazione che era «tipica di Steve, che non avrebbe mai fatto niente di cui non fosse stato certo di poter fare. Sapendo di essere in grado di cantare di tutto, era chiaro a tutti che avrebbe accettato. E considerato il fatto che di performer con il suo talento non ce ne sono poi tanti nemmeno oggi, e pensando alla sua versatilità, sono convinto che oggi farebbe ancora qualcosa d'altrettanto incredibile» (Gotthard, sito ufficiale: www.gotthard.com).