"Una pietra grigio-nera è stata scoperta ieri sulla tomba di Bessie Smith, morta in un incidente d'auto nel 1937. Solo l'erba aveva segnato la sua tomba nel cimitero di Mount Lawn Cemetery, vicino a Sharon Hill, perché la sua famiglia non aveva abbastanza soldi per comprare una lapide per lei". Il 9 agosto del 1970, il New York Times annuncia che "Janis Joplin, la cantante blues-rock, e Juanita Green, infermiera professionista di Philadelphia, si sono divise il costo di una lapide per l''Imperatrice del Blues', la cui tomba era stata ignorata per più di 30 anni".
Un mese prima di essere ritrovata senza vita per overdose da eroina al Landmark Motor Hotel di Los Angeles, la ventisettennte Janis Joplin pensava fosse il caso di dare risposta a una richiesta d'informazioni giunta al Philadelphia Inquirer su dove fosse sepolta 'L'Imperatrice del Blues', contribuendo a dare degna e più adeguata sepoltura alla voce della quale si era innamorata all'età di diciotto anni frugando nella collezione di 78 giri di un professore del Lamar State College di Beaumont, Texas. "I primi dieci anni che ho cantato, cantavo come Bessie Smith. L'ho copiata un sacco, conoscevo tutte le sue canzoni. Fu Bessie a farmi desiderare di cantare". Aggiunta ad altri corsi e ricorsi storici – l'incisione di 'Buried Alive With The Blues', sul secondo e ultimo album pubblicato postumo, 'Pearl' – la frase "La più grande cantante blues del mondo non smetterà mai di cantare", partorita dallo storico del jazz John Hammon e destinata alla tomba di Bessie Smith, è un epitaffio condivisibile tra le due cantanti.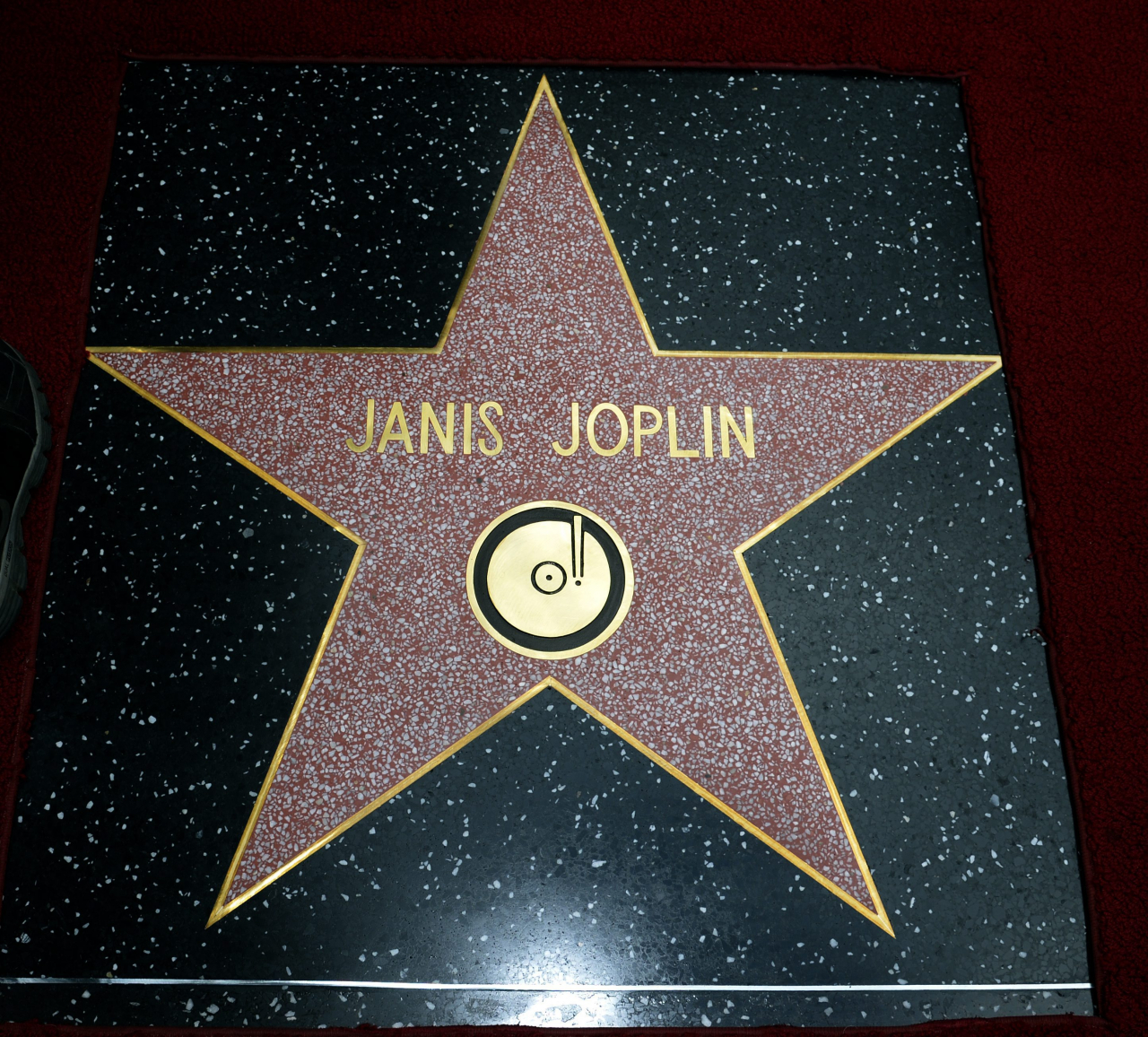 Walk of fame (Keystone)
Perché è anche così che il mondo ricorda Janis Lyn Joplin, prima rock star al femminile, nata il 19 gennaio del 1943 a Port Arthur in Texas, morta più o meno due settimane dopo Jimi Hendrix e più o meno un anno prima di Jim Morrison, in piena regola con i tempi dettati da quel 'Club dei 27' (anni) che va dal bluesman Robert Johnson e arriva ad Amy Winehouse, passando per il fondatore dei Rolling Stones Brian Jones, dal writer e pittore Jean-Michel Basquiat e dal frontman dei Nirvana Kurt Cobain, in occasione della cui morte si 'ufficializza' quella che per molto tempo era stata una semplice constatazione.
---

"Non dovrebbero permetterti di essere giovane finché non sei abbastanza vecchio da sopportarlo"

---
A dare un senso alla giovane vita di Janis Joplin, ancor prima della musica, è la pittura; e a portarla dal Texas a San Francisco prima di quando fisicamente vi arriverà è invece, a parole, 'Sulla strada' di Jack Kerouac. E prima di Bessie Smith, il riferimento vocale della giovane texana è l'Odetta di 'Odetta Sings Ballads and Blues', disco d'esordio dell'unica cantante folk nera di San Francisco; ma anche la timbrica di Lead Belly, cantante e chitarrista blues grazie al quale la ragazza scopre che la sua voce ha range sonori più duttili di quelli di soprano, affinati nel coro della chiesa (a volte trampolino di lancio, più in generale – i cori della chiesa – tomba dell'arte).
Oltre il fiume
Quella di Janis Joplin, però, non è solo una storia di musica e di eccessi. È anche una storia di bullismo. Tra i persecutori di gioventù del 'maschiaccio' della famiglia Joplin – le persecuzioni sono anche un capitolo del docufilm 'Janis' di Amy J. Berg, presentato a Venezia 72 – Holly George-Warren nell'omonima biografia ricorda Jimmy Johnson, futuro allenatore dei Dallas Cowboys e telecronista sportivo della Fox, team leader della squadra di football della Thomas Jefferson High, scuola superiore di Port Arthur, che chiamava Janis – e così la chiamavano anche i compagni di squadra – 'Beat Weeds', un insieme di 'Beat', per l'essere la futura rockstar orgogliosamente 'beatnick' ("Termine denigratorio per riferirsi ai beats, ovvero ai membri della Beat Generation") e 'Weeds', in inglese 'cespuglio', allusione ai peli pubici di una ragazzina messa alla gogna anche se "ancora ingenua riguardo ai fondamentali del sesso", come ricorda nel libro l'amica Patty Skaff: "Quelli che sostenevano di essere stati a letto con lei erano in numero dieci volte superiori ai ragazzi con cui era davvero uscita".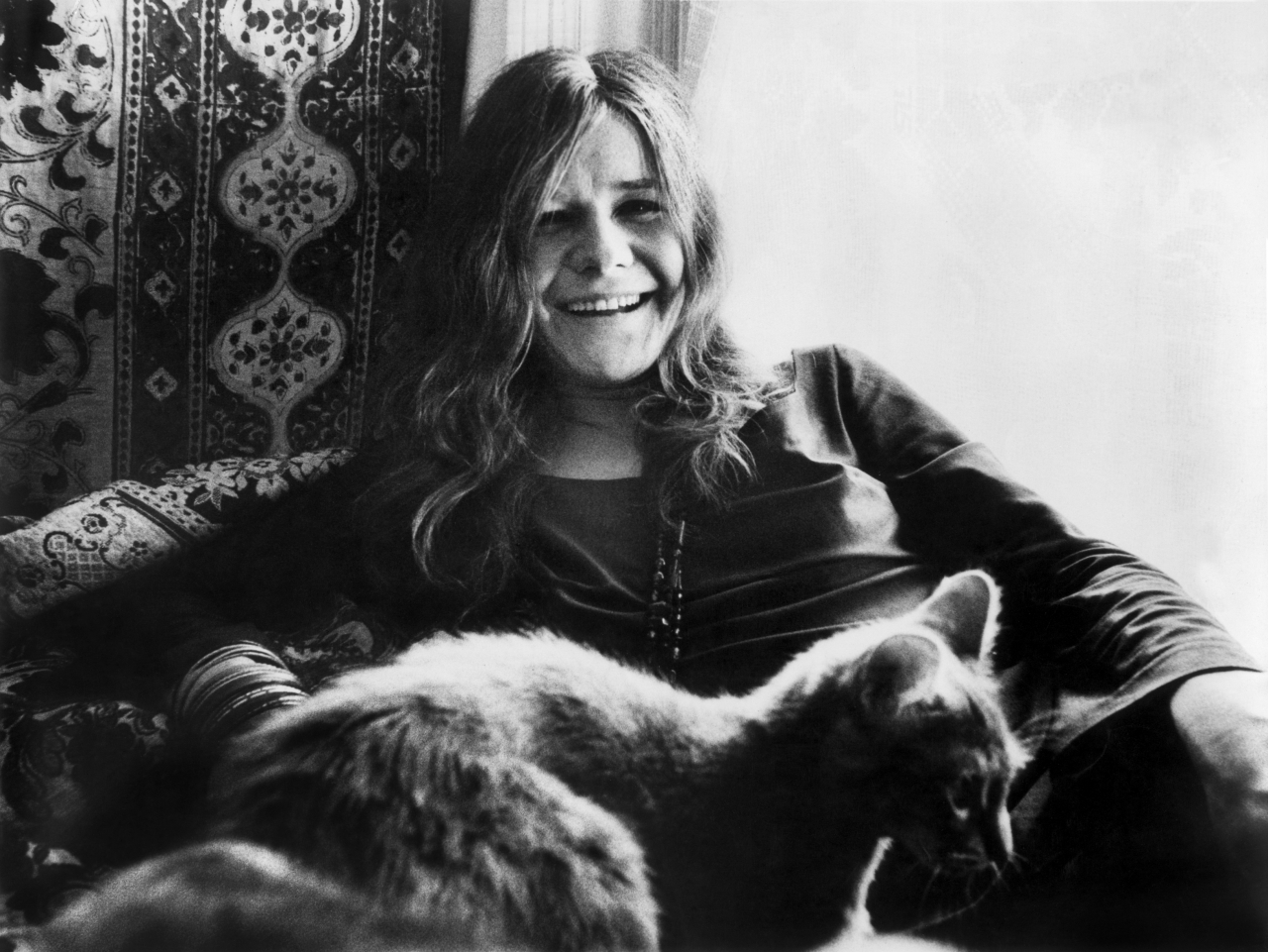 Da Janis a 'Pearl' (Keystone)
Colpa del modo di vestire bohémien (mentre "mia madre cercava di rendermi uguale a tutti gli altri"), colpa del fatto che "a quattordici anni ero senza tette", dirà Janis alla stampa nei giorni della massima popolarità, mascherando una ben più problematica adolescenza fatta di acne combattuto a colpi di cure specifiche, di lentiggini, di naso e bocca "troppo grossi", di un girovita in palese contrasto con le silhouette imposte dai canoni femminili del tempo (che, guarda guarda, sono quelle di sempre); colpa dell'essere 'diversa', colpa dell'andare coi ragazzi oltre il fiume in Louisiana ad ascoltare il blues, in posti in cui nessuna 'brava ragazza' l'avrebbe accompagnata; colpa del bere pesante, dell'irascibilità e di un desiderio di ribellione misto a convenzionalità (quella che le farà sognare un matrimonio, fino alla fine); colpa del non odiare i neri ai quali, a un passo da Port Arthur, veniva negato l'ingresso nelle scuole superiori, con il Ku Klux Klan per strada a dare fuoco alle croci. Janis "l'amichetta dei negri", Janis la "puttana" e Janis la "vacca", una cui lanciare monetine quando attraversa i corridoi. Janis sputtanata sullo Yellow Jackets, l'annuario dell'istituto, dalle sue stesse amiche. Umiliazione e desiderio di essere accettata che segneranno i giorni a venire.
---

"Sul palco faccio l'amore con venticinquemila persone, poi torno a casa, sola"

---
Il resto è tanto, ed è storia più nota. Apertamente bisessuale e per nulla spaventata dai rischi nell'America dell'omosessualità fuorilegge, dalla promiscuità tipica del tempo ricordata, nel tempo, diversamente da quella dei colleghi uomini (nel racconto del rock le abitudini di Hendrix hanno sempre avuto un'accezione diversa da quelle della collega), dalle coffee-houses del Texas Janis Joplin approda in California come le aveva suggerito Kerouac; a San Francisco, capitale del movimento hippy, trova pieno completamento di sé: nel quartiere di Haight-Ashbury si respira il 'flower power', ci si riempie di cultura, controcultura, pace, amore e sostanze stupefacenti, molto stupefacenti.
Da Monterey a 'Pearl'
L'amico Chet Helms le procura un'audizione per i Big Brother & The Holding Company, band all'interno della quale debutta con l'omonimo album del 1967, non prima di avere confuso gli organizzatori e incantato i duecentomila del pubblico del Monterey Pop Festival, lei donna in una band di uomini, con voce capace di convincere la Columbia Records che sarebbe stato davvero opportuno incidere un disco. A Monterey, è proprio l'amico Chet Helms a introdurla sul palco: "Tre o quattro anni fa, durante uno dei miei perenni giri in autostop per il paese, ho conosciuto per caso una ragazza texana di nome Janis Joplin. L'ho sentita cantare, poi siamo venuti in autostop qui sulla West Coast. Da allora sono successe un mucchio di cose, ma oggi mi riempie d'orgoglio presentarvi il prodotto finito". Di quell'esibizione, Janis dirà: "Il migliore di tutti è stato Monterey. Una cosa del genere non capita più". Parole sante: la catastrofe organizzativa di Woodstock peserà non poco sulla qualità della musica di tutti, Hendrix incluso, costretto a suonare durante un'improbabile alba dello Stato di New York. E peserà sulla qualità di Janis in particolare, minata dall'eroina dopo ore e ore di attesa.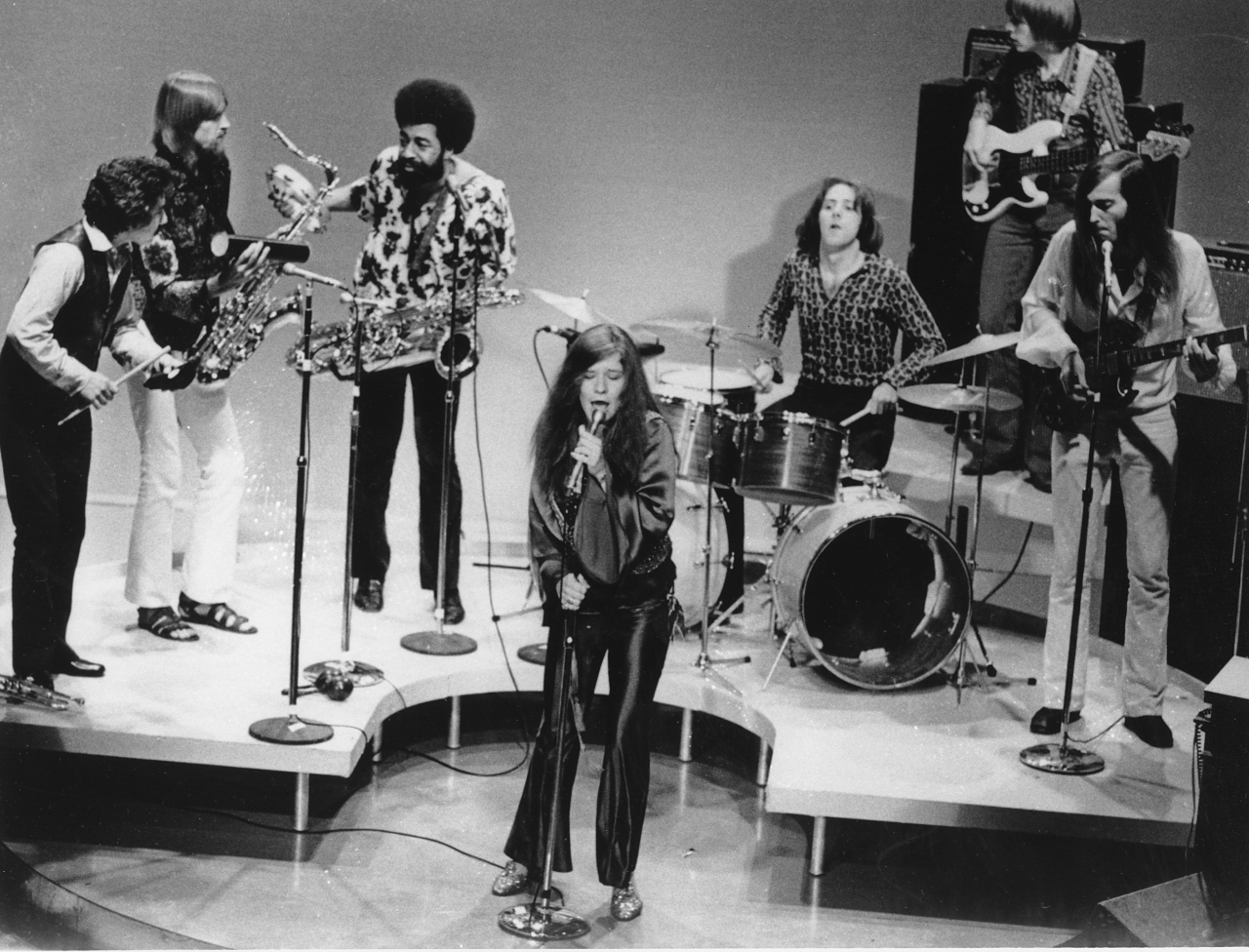 Con Big Brother and the Holding Company, dicembre 1969 (Keystone)
È 'Cheap Thrills', un anno dopo il disco del debutto, a raggiungere la vetta della Billboard e a vendere un milione di copie, consegnando alla storia le sue 'Summertime' e 'Piece of My Heart', e quella 'Ball and Chain' che aveva infiammato il raduno californiano l'anno prima. L'album è iconico non di meno per la copertina del fumettista Robert Crumb (quello di Fritz il gatto). Ma il successo non cambia lo stile di vita di Janis Joplin e, anzi, contribuisce allo scioglimento dei Big Brother.
---

'California [...] puoi fare quello che vuoi, e nessuno ti infastidisce'

---
China White
Inizia a questo punto la sua breve carriera solista, a partire da 'I Got Dem Ol' Kozmic Blues Again Mama!', disco pubblicato nel settembre del 1969 e accolto tiepidamente negli Stati Uniti, ma non in Europa. L'album successivo, 'Pearl', venderà otto milioni di copie, conterrà il singolo 'Me and Bobby McGee', numero uno, e 'Mercedes Benz'. Ma tutto accadrà tre mesi dopo la sua morte: il pomeriggio di sabato 3 ottobre, a Los Angeles per le registrazioni del disco, la cantante si rifornirà di eroina, la stessa China White importata dal pusher francese del sopravvissuto Keith Richards; l'eccessiva purezza della sostanza, il recente periodo di disintossicazione e l'assenza di qualcuno che la potesse rianimare come accaduto nelle altre occasioni in cui si era trovata sul baratro, faranno il grosso.
Quel giorno, giusto il tempo di ascoltare la base di 'Buried Alive in the Blues' fresca d'incisione e poi Janis si fionda al Landmark Motor Hotel con la sua Porsche Cabriolet 356 C dalla carrozzeria psichedelica, a iniettarsi la dose fatale nel muscolo del braccio sinistro. In una scena del crimine non meno contaminata da quelle di Hendrix e Tenco, sarà il perito Thomas Noguchi, già all'opera sui cadaveri di Judy Garland e Marilyn Monroe, a parlare di "overdose accidentale da eroina".
Così scrive George-Warren in 'Janis' di quegli ultimi istanti: "Rientrò in camera e gli effetti dell'eroina la travolsero all'improvviso, mentre sedeva sul bordo del letto. Crollò con 4 dollari e 50 centesimi ancora stretti in mano, sbatté la faccia contro il comodino, si ferì e cadde a terra tra il letto e il tavolo. L'eroina le fermò il cuore e i polmoni e lei morì. Trentatré anni esatti dopo il giorno in cui era stata sepolta Bessie Smith".